An extension cord connects an electrical power cord to an outlet in your home if the primary cable is too short. Extension cords can range from 2 to 100 feet in length. The direct benefit of purchasing an extension cord with a built-in timer is that you can control when your appliances turn on and shut off by programming the timer, similar to the outdoor extension cord with switch but it has more control even when you are not there.
This feature is beneficial in situations such as Christmas light setups. It can drive your electric bill through the roof if they run all night and can even be dangerous. Maybe you're on vacation, and you want your lights to turn on in the evening and cut off or dim in the morning to establish a pretense that someone is home. The possibilities are endless.
With all that said, there are tons of models and types to choose from, so check out this list to help you find the best extension cord with a timer.
Best Extension Cord With Timer
DEWENWILS Outdoor Timer w/ Extension Cord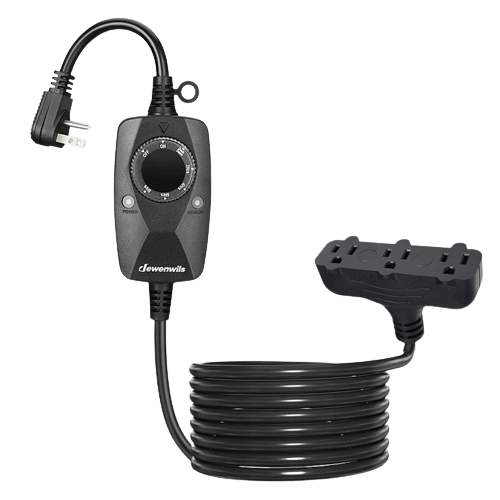 The DEWENWILS light timer is simply convenient for your outdoor lighting needs. The light sensor timer can turn on/off your patio, yard, and seasonal decorative lights on a schedule.
This extension cord is easy to use; simply plug in your devices, turn the dial clockwise or counterclockwise, and select the appropriate mode.
Additionally, it comes with two mounting holes to fix it on a wall firmly if you wish, and the extension is waterproof for outdoor use. The downside is that it only has three outlets, but can be worked around by using extension cables to allow for more lights.
Pros:
12-foot length
Two screw mounting holes
Waterproof for outdoor use
Cons:
Sensor is not the best
You might have to turn the sensor by hand, or it will turn off every few minutes
---
BN-LINK Outdoor Waterproof Electric Timer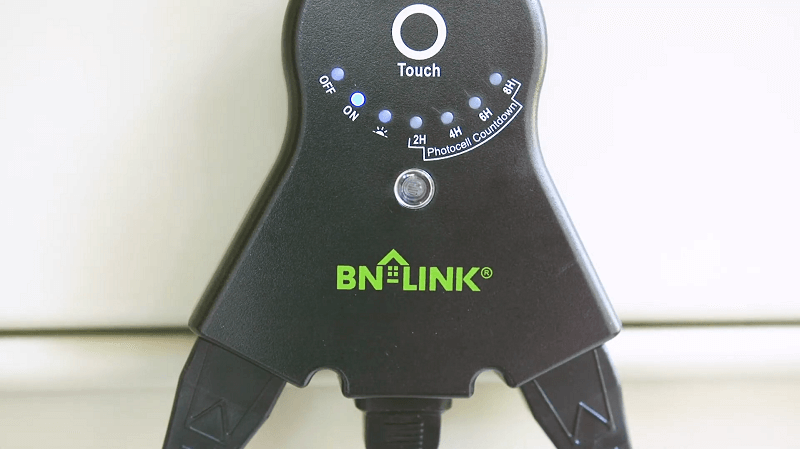 The BN-LINK Outdoor timer with a two-foot extension cord is designed for your outdoor needs. This extension cord features an outdoor timer with a smart photocell sensor that detects the presence or absence of light and automatically controls the power accordingly. Do note that the manufacturer requires the product to be mounted at least two feet off the ground.
The product includes a remote control so you can still set the durations if you can't reach the touch button.
Choose timed shut-off at dusk-dawn, or two hours, four hours, six hours, and eight hours after dusk. Then, plug your lights and you're good to go.
Pros:
Remote control
Touch control
Photosensors
Cons:
Not really an extension cable
It would seem some of them are a fire hazard
Sometimes it just turns off
---
Woods Power Strip With Mechanical Timer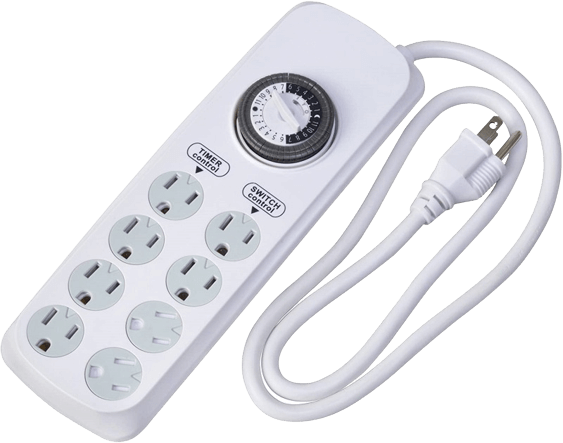 The Woods Power Strip has a mechanical timer and a three-foot extension cord. This power strip is ideal for managing gaming consoles, computers, TVs, or any other device that you prefer to be shut off when not in use. It comes equipped with a programmable timer set at 30-minute intervals, and it has eight grounded outlets. Four of these are timer-controlled, and the other four are switch-controlled.
The power strip has rotating safety covers that you can close when outlets are not in use, and if it is overloaded, the circuit breaker will cut off power. The outlets can be a bit snug when plugging some devices into them, though.
Pros:
Rotating safety covers
Plug up to eight devices/extensions
Breaker shut off
Cons:
Tight sockets
Timer can be buggy
---
BN-LINK Surge Protector With Mechanical Timer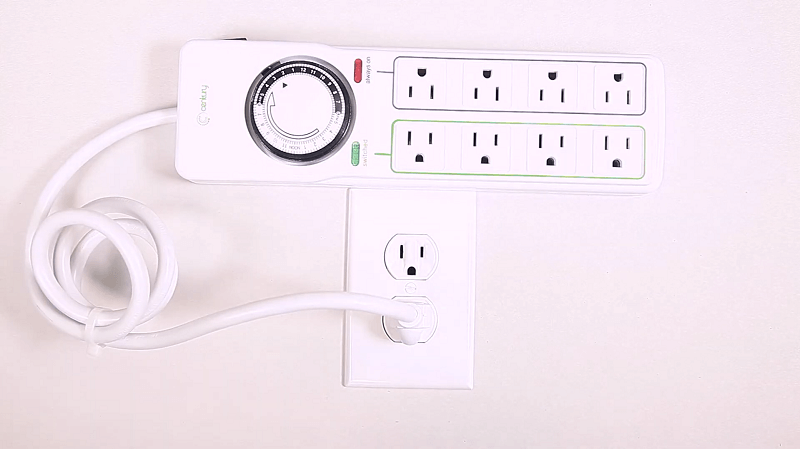 This surge protector from BN-LINK has eight outlets. Half are always live while the other half are always timed. A mechanical timer allows you to control power states as scheduled. You can easily program your connected devices to turn on and off according to a precise schedule. You can choose to switch the surge protector from timer mode to always-on mode when necessary.
You can activate overload protection manually, and there will be a red light to indicate when it's on. The product can develop a quiet rattling noise over time but does not affect its functionality. Use this surge protector and mechanical timer to precisely tune your electrical consumption and save energy.
Pros:
Precise programming
Eight outlets
Override switch
Cons:
---
Difference Between a Digital and a Mechanical Timer?
Mechanical timers are larger than digital switches and can withstand heavier electrical loads. Generally, they are large metal boxes and will likely clash with your home's decor.
On the other hand, digital timers are much smaller and visually appealing. Digital timers have a much greater chance of complementing your home decor. The digital timer is automatic, and you can set it to a precise time and date. These devices usually have internal batteries to keep the internal clock and other workings powered even during an outage.
What to Watch Out for in an Extension Cord With a Timer
There are common problems that you may have with extension cords with built-in timers. Some of the issues are directly related to the extension cord, while others may be due to the timer malfunctioning.
Cord Damage
Inspect your extension cord to see if any wires are broken or if you notice any other damage along the length of the cord. There could also be tears in the insulation, which would lead to risks of electrical shock or malfunctions. If you purchase a cord that is too long, it can become a tripping hazard when not carefully set up.
Overheating
One common problem you'll see with a lengthy cord is overheating. Check if any spots are abnormally warm or hot using a thermometer gun.
Always select an extension cord with the correct rating for the load you want it to handle. Otherwise, you will be introducing a fire hazard into your home or workplace.
Light Sensor
One issue you may encounter with your light sensor is that artificial light near your extension cord may cause the timer to think it's daytime. This can cause your lights to cut off prematurely. If you have this problem, you may want to use a basic digital timer with your lighting setup.
How Do You Set a Timer on an Extension Cord?
The process depends on whether it is a mechanical timer or a digital timer switch.
How To Set a Digital Timer?
The process for setting a digital timer differs across devices and manufacturers. Usually, setting the current time and date, and programming the shutoff and turn-on times entails holding the "Set" button on the control panel. Please study the user manual for your product because the process described below is only a general guide.
Begin by allowing the timer to charge its internal battery (if equipped) for around 30 minutes.
Next, press and hold the ON button until the display comes on. Once your device has started, press and hold the "Clock" button and set the current time by pressing the "hour", "minute", and "day" buttons.
Program the specific time the outlet turns on by pressing the PRG button or its equivalent. "ON" will appear on the screen along with the program number. Just like setting the current time, use the proper button combination to set the exact time to turn on, and the day that the programmed timer setting will apply. Repeat this process for the "OFF" function.
How To Set a Mechanical Timer?
To set a mechanical timer, begin by turning the override switch (if equipped) to "Timer On". Rotate the dial to the exact time of day you are currently at.
These timers feature pins spaced at 30-minute increments. When you press down on a pin, it turns the power on during that period. Lift the pin to set the extension cord to cut the power off during that period.
For instance, if you want to set your device to cut the power off at 6 AM and turn it on at 6 PM, pull all the pins up between 6 AM and 6 PM. Leave all the other pins down.
Final Thoughts
The best extension cord with a timer depends on what you intend to use it for. Some products are built to last years outdoors while others excel at powering many devices indoors at once. We've selected the best products on the market with various features to help you power your devices at meticulous intervals. And once you've got your product, make sure to constantly check for damage or overheating with your extension cord, and always refer to the instruction manual when using your product for the first time and when troubleshooting.