Disclaimer: we don't advise you do this yourself, please hire a professional.
Underground extension cords are great tools to help homeowners spruce up their backyards with lighting and speakers or plug-in power tools when landscaping. If you have an outdoor outlet, you can plug in an extension cord for power tools when needed, but they can look out of place for lighting or something else.
That's why using underground extension cords is so appealing. They work well, and they're mostly invisible to neighbors when hanging out in your backyard. They're also beneficial when mowing the lawn or landscaping, so you're not constantly tripping over cables.
Best Underground Extension Cords
Clear Power Heavy Duty Outdoor Extension Cord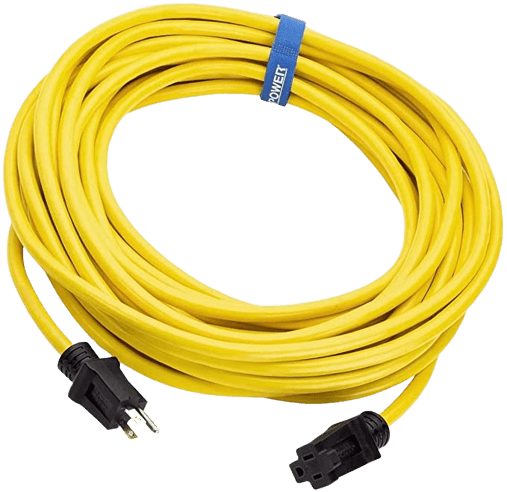 One of the best heavy-duty outdoor extension cords is this one by Clear Power. It's built to be outside with 100% copper conductors and has all the features you look for when considering an underground or outdoor cable. You can find more heavy duty outdoor extension cords here. 
An extension cord that can withstand the weather elements, especially water, is essential when placing one underground, so something like a waterproof outdoor extension cord. This Clear Power outdoor cable is outdoor rated and resistant to moisture and weather. Additionally, it's also flame retardant. 
You can go with their standard outdoor cables or purchase ones specifically made for cold weather. They also offer a (thermoplastic elastomer) TPE rubber cable.
The best part is that all three types of these cables come in varying lengths ranging from 25 to 150 feet. While it's not a huge deal for everyone, they also come in seven color options.
Pros:
Available in 25 to 150 feet
Weather and water-resistant
Several color options
Flame retardant
Cons:
You'll need to purchase a conduit to protect it while it's underground
---
Maximm Outdoor Extension Cord With Multiple Outlets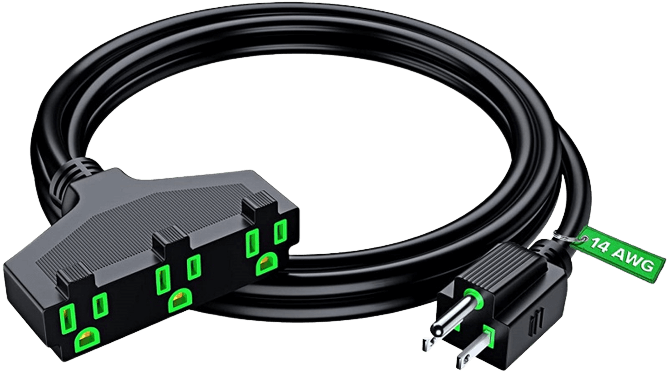 Maximm's Outdoor Extension Cord with multiple outlets is an excellent choice if you don't need a lengthy, underground extension cord. This cord reaches six feet and offers three outlets for you to utilize when outside.
The producers of this product use a PVC jacket around the wires. A PVC jacket helps protect wires from the elements outside and while underground. Under the PVC vinyl jacket, you'll find wires with a 14-gauge copper conductor, making them powerful and great for heavy-duty electronics.
When looking into this extension cord, you'll find that it comes in lengths of six, ten, 12, 15, 25, 30 and 50 feet. These lengths should be more than enough to apply underground in your backyard. If you need something longer, you may need to look into other options.
This Maximm extension cord utilizes 120 volts and 15 amps when plugged in. Users love this product for several reasons, but the manufacturer offers a limited one-year warranty, which is beneficial. If you prefer choosing the color of your underground extension cord, you'll have six choices.
Pros:
Six color choices
PVC vinyl jacket
Copper conductors
One year warranty
Several length choices
Cons:
There are longer extension cords
You'll need to purchase a conduit to protect it while it's underground
---
Sun Joe Vinyl Extension Cord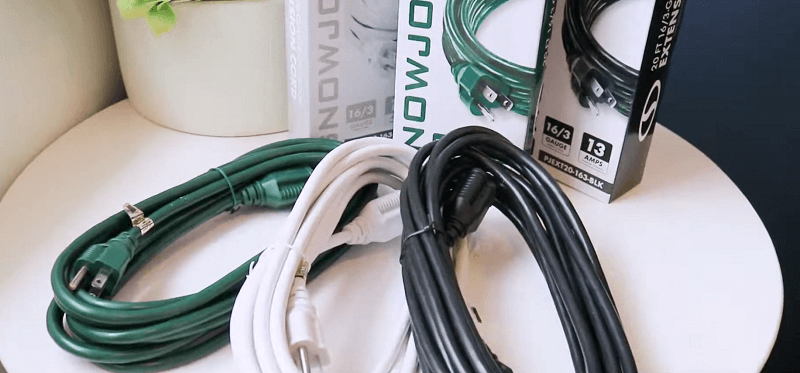 The best budget underground extension cord you can buy with a conduit is this vinyl extension option by Snow Joe. This cord stretches 20 feet and provides 125 volts and 13 amps. Users love that it's weatherproof, durable and heavy-duty for almost everything you'd need outside.
When you're not using this underground extension cord, there are weather guards in place to ensure it doesn't get damaged by the elements. The vinyl jacket around the wires allows for flexibility underground and when surrounded by a conduit.
Added flexibility helps ensure that this cord lasts a long time without breaking. The cable is grounded and includes male-to-female connectors.
At under $20, people love how affordable this extension cord is. You'll still need to purchase a conduit to install it underground safely, but it's an excellent price for a 20-foot extension cord.
Pros:
Male-to-female connectors
Vinyl jacket
Weather guards
Very affordable
Cons:
It only comes in a 20-foot option
You'll need to purchase a conduit to protect it while it's underground
---
Southwire Contractor Grade Extension Cord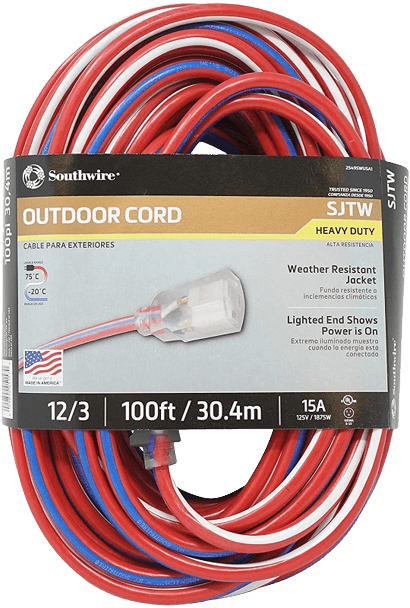 If you're looking for an underground extension cord that can function indoors if need be, this one by Southwire is a good option. The extension cord is contractor grade and comes in lengths of 50 or 100 feet.
The cord comes with a vinyl jacket to prevent corrosion and other damage from the elements. It's water-resistant and not sensitive to heat, allowing it to last for years with proper care. When buried, the vinyl jacket, in addition to a conduit, will provide extra protection.
As a heavy-duty extension cord, you don't need to worry about your power tools and other electronics causing issues with the cord as long as you apply it properly.
This extension cord provides 125 volts and 15 amps, so check what you're plugging into it to make sure it can adequately power the device.
Pros:
Contractor grade
LED power indicator
Weather-resistant
Heavy duty
50 and 100 feet options
Cons:
It's not the most affordable option
You'll need to purchase a conduit to protect it while it's underground
---
Safety Tips For Cord Burial
You shouldn't dig a hole and toss the extension cords into it. Placing extension cords into the ground without protection is unsafe, but it can make your extension cords break sooner than they usually would.
Carelessly putting cords in a hole can result in a fire, or if someone digs up the area where you buried the cable, they can get electrocuted.
If you're going to bury an extension cord, you need to ensure you're using an outdoor extension cord that can withstand being underground. An indoor cord isn't thick enough, and it's against the National Electric Code (NEC) guidelines for underground cables.
The best way to keep you and others safe when burying an extension cord is to use one made for the outdoors and to use a conduit. You should only utilize a direct burial-rated wire if you don't have a buried electrical conduit.
There are several types of conduit choices. Each one serves a different purpose, and you need to make sure you're using one correctly for the cord you're using. The various conduit options out there are:
Intermediate metal conduit
Rigid metal conduit
Liquid-tight metal conduit
Rigid PVC conduit
Electrical nonmetallic tubing
Electric metallic tubing
Flexible metal conduit
While there are several options, the most commonly used conduit for extension cords is PVC.
Reasons To Use a Conduit
Besides being safer all around, there are other reasons you should utilize a conduit when burying an extension cord:
It's reliable
It's easy to install
It extends the extension cord's life
It helps prevent corrosion
It looks better than exposed wires
FAQs
Dealing with underground extension cords can be tricky. If you need to use one for your backyard or another reason, consider these frequently asked questions from others interested in using underground extension cords.
Can you bury an extension cord?
You can bury an extension cord as long as you protect it first. Technically speaking, nothing can stop you from tossing an extension cord into a trench in the ground. Without proper protection, these cables aren't equipped to handle the elements.
Burying an extension cord without a proper conduit could cause an overloaded cable, a fire and other problems.
What is a direct Earth burial cable?
A direct Earth burial cable is an electrical wire or cable that's made for people to bury underground. Producers of direct burial cords encase the electrical cables in a specific thermoplastic covering that helps prevent moisture from seeping into it and causing issues with the wires.
The main difference between underground extension cords and a direct Earth burial cable is that underground extension cords require a conduit while the other doesn't.
Can you bury an extension cord in PVC to make it safe?
Yes, you can bury an extension cord in PVC. Doing so helps protect the cord more, but if you're going to do this action, you should still ensure you're utilizing an outdoor or underground extension cord to prevent the cord from the elements.
Can you make an underground extension cord?
You can't make a legitimate underground extension cord. Manufacturers construct outdoor and underground cords with specific materials designed to withstand the outdoors.
Some people wrap their indoor extension cords and cover them in PVC or another conduit, but the best thing you can do is purchase an extension cord made for outdoor and underground use.
Final Thoughts on Underground Extension Cords
An underground cable with a conduit is the best way to add lighting, speakers or handle lawn tools in your backyard while keeping everyone safe. When paired with a conduit, they're thicker and look much better than loose cords in your yard.
You might have noticed that none of these cables are made for direct burial (you need to isolate them). We advise you to use a professional on high risk jobs like these.