There are many types of USB ports, and most people have countless cords at the ready for all different devices. However, sometimes you need a double-ended USB cord to link devices or act as an extension cord.
This list of the best double-ended USB cord has everything you could need. There are male-to-male and female-to-female cables so that you can connect anything. There are different speeds, like USB 2.0 and USB 3.0. There are also different sizes, like USB-C, mini USB, or micro USB.
Check out the following USB cables while considering what type of ports you have, what connection you need, and your preferred transfer speed. You'll find exactly what you need in terms of double-ended USB cords.
Best Double Ended USB Cable
You can break down the best double-ended USB cord into many categories. The first is standard USB 2.0 and USB 3.0. However, you can further subdivide that category into male-to-male and female-to-female cables based on your needs.
USB Cable With Two Male Ends
BesCable USB to USB 2.0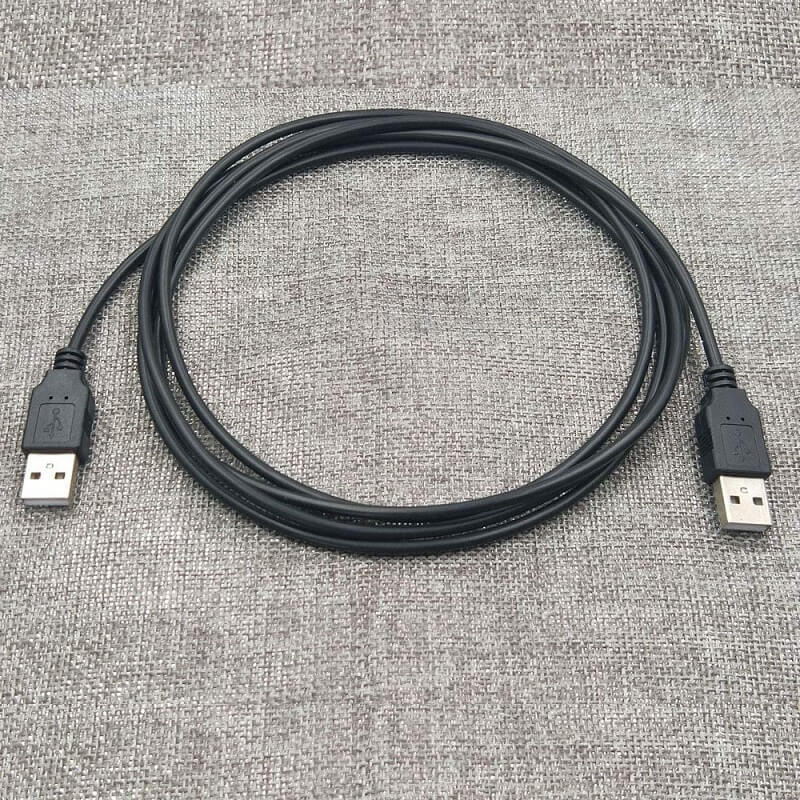 The BesCable male-to-male USB to USB 2.0 is a data cable stretching over seven feet long. If you need a male-to-male adapter to give you space between devices, this is the best cord for the job. You can easily connect a computer to a printer in the next room. The cable has a thick coating, so it won't wear out, but it's still flexible enough to go around corners and furniture.
Pros
Wires are thick and protected but still flexible
Cable is seven feet long
BesCable offers a two-year warranty
Cons
Some cord inputs aren't properly formed and won't fit your USB port correctly
---
USB Female To Female Extension Cable
BAIRONG USB 2.0 Header Cable

You don't find USB 2.0 too often these days; the BAIRONG USB 2.0 Header Cable is one you can install on your motherboard. It's 23.6 inches long, so you have plenty of cord to work with. The wire coating is an elastic PVC material, so you can twist and curve the cable to fit.
The manufacturer mentions that the wire colors you get might differ from what's in the picture, which is fine.
Pros
Flexible yet durable elastic PVC coating
Very affordable female-to-female USB 2.0 cable
Easy to install to upgrade your PC
Cons
Some cables are only 20 inches long when you receive them
---
USB 3.0 Cable Male To Male
ANDTOBO Double-Ended USB 3.0 Extension Cable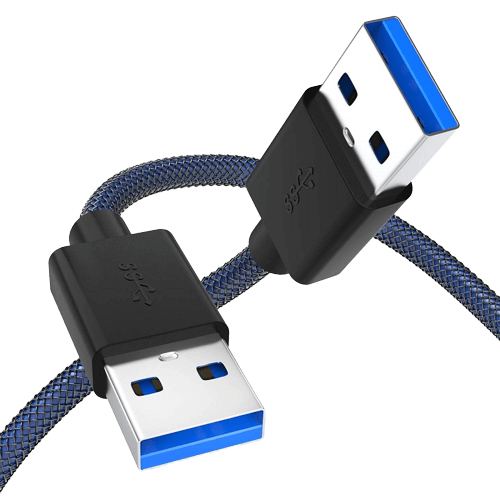 The best male-to-male option for USB 3.0 is the ANDTOBO Double-Ended USB 3.0 Extension Cable. The cord is 3.3 feet long. Since it's USB 3.0, you get a fast-charging cable with speeds of 5Gbps.
The internal wires have strong netting to keep them bundled together and protected. This safeguards it against wear and tear.you might sacrifice speed for length here.
Pros
Gives you 3.3 extra feet of cable
Great for connecting cameras, laptops, computers, DVD players, and more
Affordable male-to-male extension cord
Cons
Transfer speeds can lag depending on how many cords you've linked together
---
USB 3.0 Female To Female Extension Cable
ANDTOBO USB 3.0 Extension Cable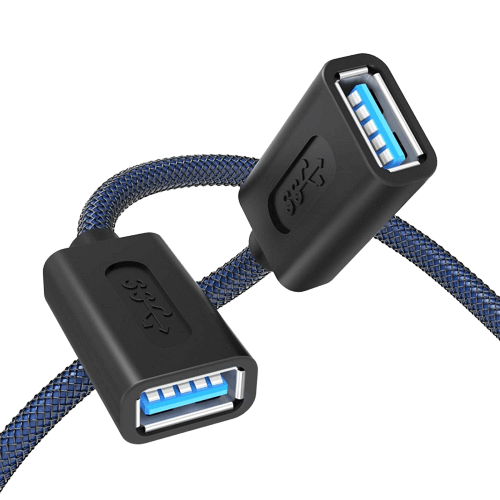 The ANDTOBO female-to-female USB 3.0 extension cable has a Kevlar braided cover making it durable enough to last for years. Even if the cover tears, there's unique netting protecting the internal wires. Since the cable is 3.3 feet long, you can also use it as an extension cord. The reinforced coverings help you feel secure when stretching it across a longer distance.
One problem with using this female-to-female extension is that longer cables can decrease your transfer speed.
Pros
Gives you an option to connect two male USB cords
3.3 feet long to add an extension to existing cords
Transfer speeds up to 5Gbps
Cons
Picture looks like it has metal insides, but they're plastic
---
Double Ended USB C Cable
These days, a lot of tech manufacturers are using USB-C cords. They're smaller than standard USB ports and are on phones, tablets, digital cameras, and other compact devices. You can buy a male-to-male or female-to-female extension to lengthen your standard USB-C cords without sacrificing charging and transfer speeds.
Male To Male USB-C Cord
Satechi USB-C to USB-C Cord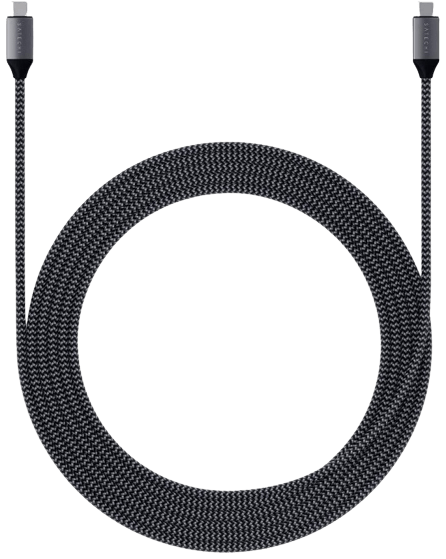 The Satechi USB-C male-to-male cord is durable thanks to the braided cable covering. It protects the internal wires while also preventing the cord from getting twisted. Satechi gives you 6.5 feet of length with a  built-in velcro loop to keep the cord manageable during use or storage.
While it's technically only meant as a charging cord, it does transfer files. Another downside was how quickly the end of the wire frayed, right where at the connection where it gets so much use.
Pros
Braided coating is durable and attractive
Cable has 6.5 feet of additional length
Convenient velcro loop makes for easy storage
Cons
Cord frays easily with use despite the braided covering
---
Female To Female USB C Adapter
BOLS USB-C to USB-C Adapter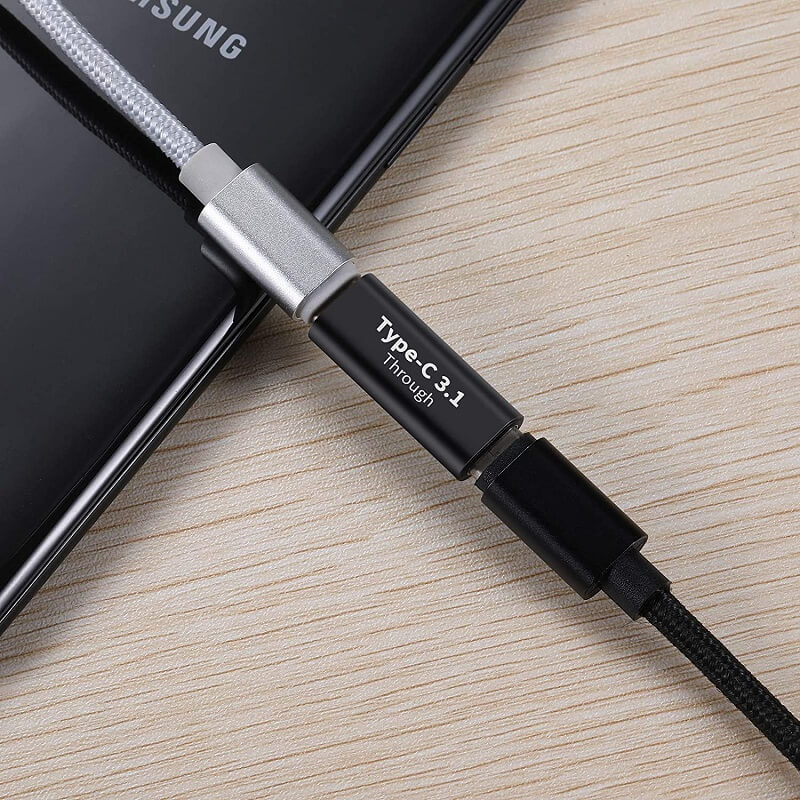 The BOLS female-to-female USB-C adapter is a great deal since it comes in a pack of two. You can use these small adapters to ensure you can plug in your USB-C cords. Using an adapter can often mean you experience a lag in charging or data transfer, but you still get up to 10Gbps with the BOLS adapter in place.
The downside here is that the adapters don't work with video and audio devices.
Pros
Affordable pack of two female-to-female adapters
Compact adapters won't add too much bulk to your device
Has speeds up to 10Gbps
Cons
Doesn't properly transmit audio and video
---
Best Double Ended Mini USB Cord
Mini USB cords have smaller connections than the standard USB, but they're bulkier than USB-C and micro USB ports. They came out in 2005 and were on phones, digital cameras, and MP3 players.
Technology outpaced this port, and most manufacturers upgraded to micro USBs just two years later. However, some devices still use mini USBs, so these extenders and adapters can help your charging game.
Male To Male Mini USB  
zdyCGTime Mini Male Extender USB Cable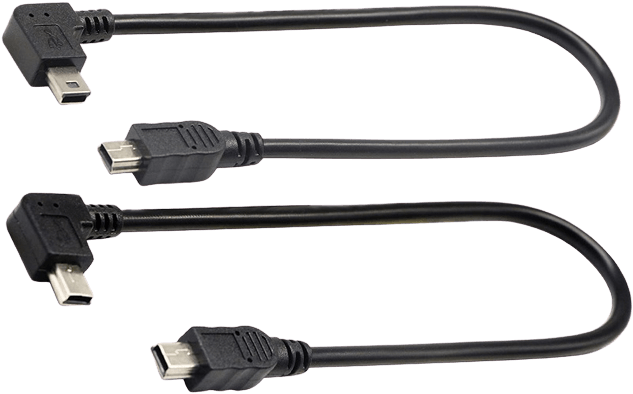 The male-to-male double-ended mini USB cable and extender from zdyCGTime is a pack of two at a low cost, making it a great deal. Something else that makes this option stand out is that one end of each cable is at a 90-degree angle. One is right-angled, and one is left-angled, so you'll have the best fit for your mini USB port.
The angled cords make it so that you don't have to keep your devices farther away from walls or obstructions because the cord goes down instead of straight out. It's a nice feature, but it won't work at all for some devices.
Pros
Great price for a pack of two
One end has a 90-degree angle for convenient installation
Useful for syncing data or charging devices
Cons
Not compatible with all devices
---
Micro USB to Micro USB
It might seem confusing that there are mini and micro USB cords, but they're different sizes for different uses, so you want to make sure you're getting one that will fit properly. Micro USBs are more current compared to mini USBs.
Micro USB To Micro USB Male To Male
CableCreation Micro USB Cable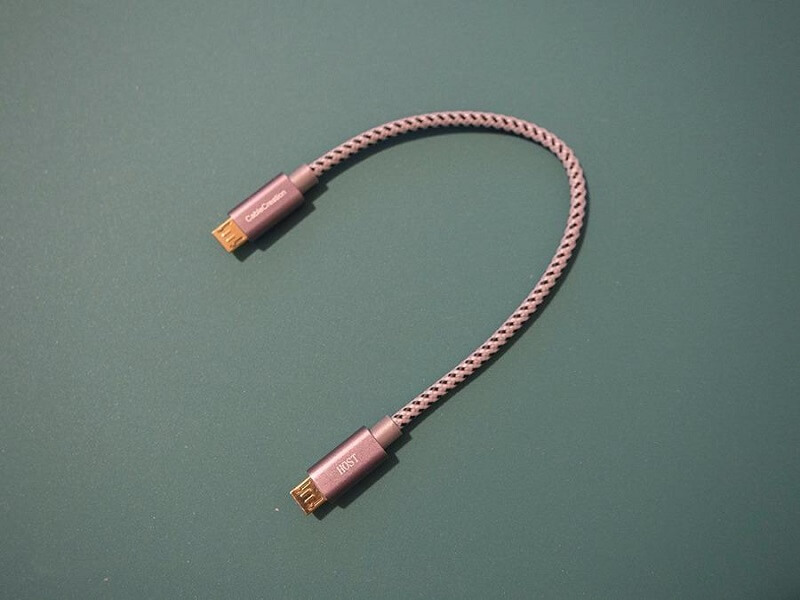 The CableCreation Micro USB Cable is an excellent way to link phones, tablets, gaming consoles, and other devices that use micro USB cables. It's a male-to-male cable, so you can transfer data from phone to phone at speeds of 480Mbps.
While this is a great data transfer cord, that's about all it's suitable for. It's only eight inches long.
Pros
Transfer data between devices at 480Mbps
Short cord so you won't get it twisted
CableCreation has a 24-month warranty
Cons
Only ideal for close connections because it's eight inches long
---
Micro USB To Micro USB Female
Inovat Short Micro 5 Pin Extension Adapter Cable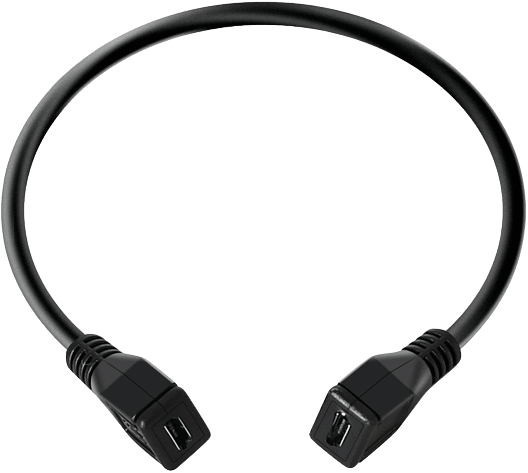 Built to reduce signal transmission attenuation, this Inovat female-to-female adapter works best for Windows tablets. It boasts a high transmission speed of up to 480Mbps, and it will reduce your signal transmission attenuation, keeping your signal strong and clear. 
While this particular adapter cable was designed with Microsoft products in mind (specifically to support Windows 98/2000/, XP, and Vista) it works with any female-to-female products, including dash cams.
You can use it with mobile phones and tablets via the micro port, so long as your connection is female-to-female. The cord is protected by a top-quality PVC and PU coating, keeping it soft but durable. Plus, it's lightweight, making it easy to take with you no matter where you might need it.
Pros
Great price
Female-to-female connector otherwise hard to find
Made in the USA
Cons
Only about ten inches long
Shallow connection means plug may disconnect
---
What Is a Double-Ended USB Cord For?
You can use a double-ended USB cord for connecting multiple USB cords. It works as an extension cord because the male-to-male or female-to-female ends ensure the other cords can still connect. If you try to link two standard USB cables together, there's nowhere for them to connect. They connect from one device to another port, not from cord to cord.
Using the right double-ended USB cord can give you more distance between your devices without compromising the transfer speed.
This feature is especially convenient when charging devices you still want to use. You can use a double-ended USB cord to connect your phone charger to the USB plug and not have to sit on the floor next to the outlet.
If you're looking for an extension cable for your webcam, getting a double-ended USB cord suits your needs. You can use a male-to-male or female-to-female cord and plug in your webcam's USB cable. Then connect the other end of your double-ended cord to the computer, and you're ready to go.
What Are Male-To-Male USB Cables Used For?
As with other double-ended USB cables, male-to-male cables can extend the distance between devices. You can use a male-to-male USB cable as an extension cord between devices and wall chargers, for example.
Male-to-male USB cables connect devices together, so there's only a need to connect one USB cord for connection. This connection facilitates quick, simple data transfer between the two computers. Some outlets also have USB ports built in with the traditional sockets, so a male-to-male cord can be useful in that case.
Final Thoughts
These are the best double-ended USB cables on the market, so you're sure to find one to suit your needs. Pay close attention to the cord length and transfer speeds. When you're buying a double-ended cord, you don't want to limit yourself in terms of distance and output.
Whether you're looking for male-to-male or female-to-female, this list has you covered. You can find the right double-ended USB cords for 2.0, 3.0, mini, micro, and USB-C. If you need more information about a specific cable, check out our USB 3.0 extension cables buyer's guide.