Welcoming a new baby is one of the most joyous times. Many new additions to your home come with a new baby, including baby monitors. Baby monitors are one of the best tools to keep an eye on your little one while they sleep.
Once you've picked out the perfect baby monitor for your home, knowing where to place it and how to set it up is critical. There are safety and health concerns when placing the monitor that you need to be aware of, as well as the best viewing angle to watch your baby.
If you're getting ready to welcome a baby into the world, here's how to install and set up a baby monitor, plus some helpful tips.
How To Position a Baby Monitor
Finding the perfect position to place your baby monitor in will make your life less stressful. When it's set in the best location, you'll be able to have eyes and ears on your baby whenever you want.
Place the Monitor Three to Six Feet Away From Your Baby
A good rule of thumb to follow when figuring out how to position your baby monitor is to place it about six feet away from your baby or child. This is a great distance to ensure they can't mess with the monitor on accident or purpose. Additionally, a three to six-foot distance will limit the amount of electromagnetic radiation they're exposed to.
A distance of six feet will also offer a broad view of your baby and high-quality sound. Sometimes when it's too close or too far away, you won't have a good view of your child, and the sound quality might not allow you to hear when they're awake or crying.
Depending on the monitor you purchase, the sound quality will vary. You might need to play around with several positions to ensure that your monitor picks up on your baby's sounds appropriately. When the monitor isn't clearly picking up on sounds, you might miss something, which can cause you anxiety.
If mounting the monitor six feet from your baby does not work in your nursery, three feet is acceptable. Many parents choose a three-foot distance for infants to pick up their smaller grunts and cries.
Place It on a High Shelf or High up on a Wall
Two of the best and safest places to position a baby monitor are on a high shelf or mounted on a wall near the crib or bed. Most people opt to mount the camera on a wall, but if you don't want to deal with the tools and want the freedom to move it around there are many safe places to set the camera around the room.
Mounting the baby monitor on the wall allows the camera to view a larger area, allowing you to see everything you need. It's also a great option to ensure that it's entirely out of reach for your baby, infant, or child.
Mounting a baby monitor is an excellent option if you have one that allows you to adjust the angle from your phone. This means tilting, zooming, and panning around the room.
If you can't mount your baby monitor on the wall for whatever reason, put it on a shelf high enough that your child can't reach it. A helpful tip when positioning it on a shelf is to place something under it to elevate the lens and help you get the best angle possible.
Never Place Anything With Cords in Reach of Your Child
This might be a no-brainer, but it's worth mentioning. You should never place anything, including baby monitors, with cords within your child's reach. Cords pose a significant safety concern for children.
Babies, infants, and children don't know better; when they get ahold of cords, they can wrap them around themselves. This can cause them to suffocate or even lose blood flow to a particular area of the body where the cables restrict flow.
While many baby monitors are marketed as wireless, the camera portion of the monitoring system that goes in your child's room usually has a cord. You must secure the wire to the wall or floors so your baby can't grab them. You can also put furniture or immovable objects in front of the wire to prevent your little one from grabbing cords.
How to Mount a Baby Monitor on the Wall
Mounting a baby monitor on the wall is one of the best ways to get a great view of your child's sleeping area or wherever you want to keep an eye on them. If you're interested in mounting a baby monitor on the wall, you can do it with these easy steps.
Tools & Materials
Pencil
Drill
Screws
Hammer
Screw anchors
Step 1: Test the Viewing Angle and Sound Quality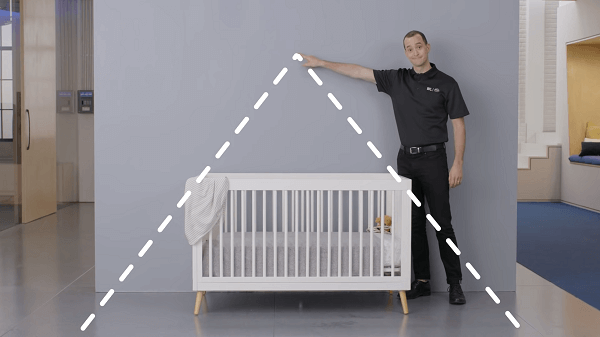 First things first, when setting up a baby monitor you must find the best place for it. You'll want a place that offers you the best viewing angle for your child and where it can still pick up on any sounds they make. The perfect angle and sound quality can vary depending on the make and model of your baby monitor.
Step 2: Mark Where the Screws Will Go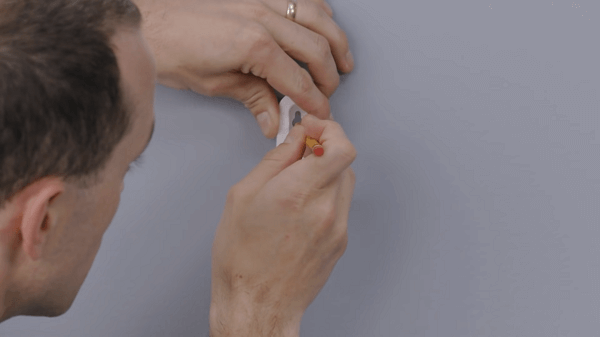 Once you've found the perfect place on your wall, you'll need to mark where the screws will go. It's easier to do this with two people, but you can try to do it on your own if necessary. You can use a pencil or whatever tools you prefer to mark where the screws will go.
If your cam doesn't have a stand you can put a piece of tape on it. Then use a pencil to make holes in the tape, take the tape of the camera and put it on the wall as a template.
Step 3: Drill Holes on the Marked Areas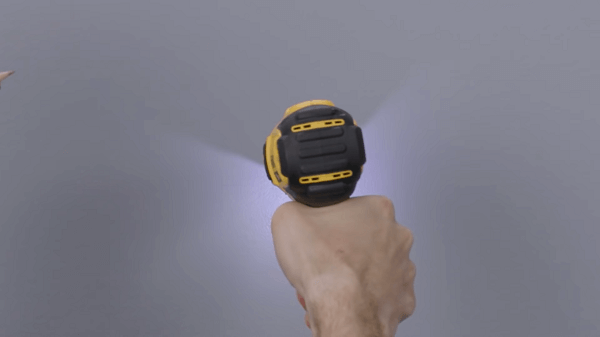 Next, you'll take your drill, insert the bit, and then drill holes where you marked for the screws. Most baby monitors that are meant to be wall-mounted will come with instructions and a guide on where you should drill the holes for the base of the baby monitor. You can figure it out pretty quickly without a guide if yours doesn't.
Step 4: Hammer the screw anchors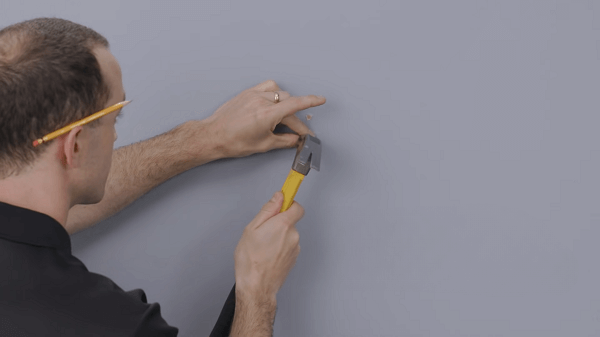 Depends on the type of your walls, but you might want to use screw anchors. That way your screws will stay in place, especially if you have drywall.
Step 5: Screw the Base of the Baby Monitor Into the Wall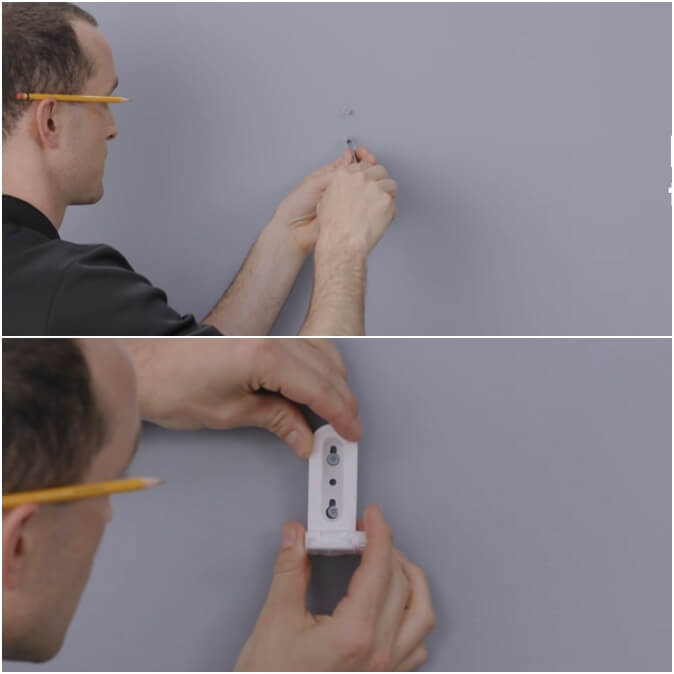 After you finish drilling holes into the wall, you'll need the screws that the monitor comes with. You'll take them and screw them into the base of the baby monitor, attaching the base to your wall.
Or you might need to screw the screws into the wall and then set the base of the monitor on them (depending on the type of monitor).
Step 6: Attach the Baby Monitor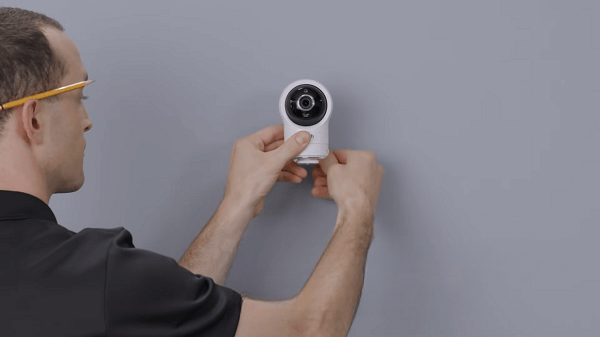 The next step to setting up your baby monitor by wall-mounting it is to attach the actual monitor to the base you've mounted on the wall. Most products will easily clip into the base, but if yours doesn't have a clipping mechanism, it will come with instructions on how to secure it.
Step 7: Secure the Cord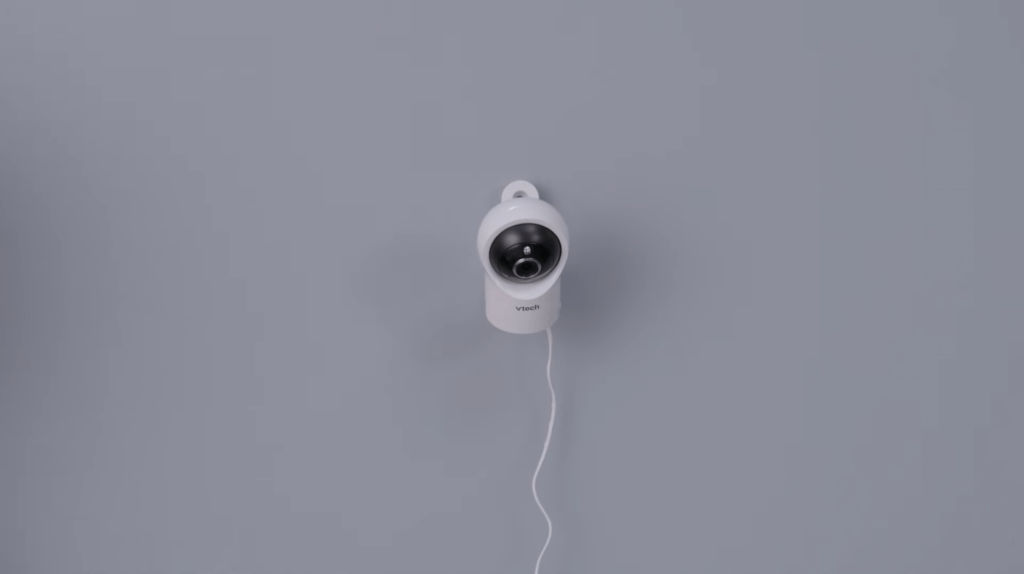 Lastly, secure the cord to the wall using tape, pins, or a wire cover.
How To Mount Baby Monitor On Wall Without Drilling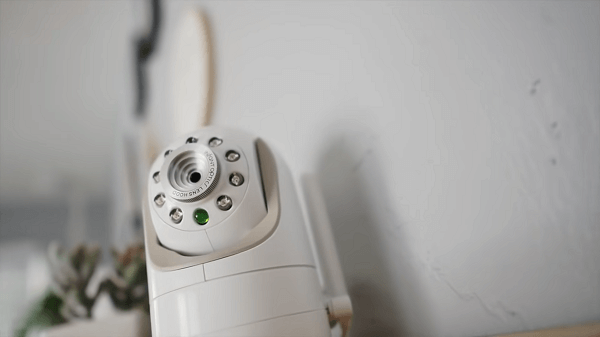 Most of the time, mounting anything on the wall, including a baby monitor, requires drilling. If you don't want to put holes into your walls, here's how you can mount a baby monitor on the wall without using a drill.
Step 1: Choose What Will Hold the Monitor
If you're not wall-mounting your baby monitor with screws, you'll need to choose an adhesive that will keep the monitor in place on your wall. Command strips are one of the best options for this. They come in several sizes and can hold varying weights depending on your purchase.
Be sure to know the weight of your baby monitor before buying command strips. If they cannot hold the monitor's weight, you risk it falling and potentially breaking.
Step 2: Decide Where You'll Place the Monitor
After choosing how you'll get the monitor on the wall, you can figure out where to place the baby monitor. This might take some time, but it's best to figure this out before you begin putting the command strips on the baby monitor base and the wall.
Step 3: Mark Where the Command Strips Will Go
Just like you would if you were drilling into the wall, you'll need to mark where you're going to place the command strips. A pencil is the best tool to do this. You'll want to ensure they're even and level so that your monitor doesn't show a crooked view of your baby.
Step 4: Place the Command Strips on the Marked Area and the Baby Monitor
Once you find the best position, you'll peel off the backing of the command strips and place them on the wall where you just finished marking. You'll then place the other command strips on the base of the baby monitor.
Luckily, if you don't like the placement or you make a mistake, these are fairly easy to remove and adjust as necessary.
Step 5: Attach the Baby Monitor to the Wall
Finally, you can attach the baby monitor to the wall. You'll want to press these command strips into the wall with the monitor really well to ensure that the baby monitor is as secure as possible.
Frequently Asked Questions
It's natural to have questions about everything when having a baby, especially about something as vital as baby monitors. Here are some common questions that other parents and guardians are asking about baby monitors.
When should you start using a baby monitor?
There's no age requirement to start using a baby monitor. Some parents choose to start using it the minute they bring their baby home. Some parents only start using it when the baby begins sleeping in their own room and crib, and other parents have their own timelines.
How do I stop my toddler from unplugging cords?
Stopping toddlers from unplugging cords can be challenging, but you can still do it. The best ways to prevent your toddler from unplugging cords are to use outlet cover boxes, put furniture or other things they cannot move in front of the outlets, keep them entertained so they don't have the desire to unplug things, and explain the dangers of unplugging cords.
Can I use an extension cord with a baby monitor?
Technically, you can use an extension cord with a baby monitor, but it's not recommended. Long cables are choking hazards, and you want to limit all the risks around your baby. If you use an extension cord, you need to make sure it's entirely out of reach for your baby or other young children in the house.
Setting Up a Baby Monitor
Baby monitors are great tools to help you keep a watchful eye on your little ones throughout their young years. Whether they're a newborn, infant, toddler, or young child, they're a great asset to keep them safe.
Setting up a baby monitor is relatively simple. Knowing where you're going to place it, ensuring you have a good angle and sound quality, and keeping cords out of reach for your children will ensure you have the best setup for the baby monitor.