Getting high-quality video can be difficult, especially when you're using older analog technology. But, it can also be considered essential, after all, the digital world is constantly improving the quality of images on your screen.
Fortunately, you can use the best BNC to VGA converter to convert your analog signal into a digital one. It should be noted that BNC connectors can be used with digital and analog signals.
What Is BNC?
BNC (Bayonet Neill-Concelman) is a type of coaxial connector. The design includes two simple lugs that slot into the receiver with a quarter turn. They are generally made in 50 or 75-ohm capacity and are used when you have an RF or video signals, such as those put out by a television or DVD player.
In short, it converts the RCA signal to a VGA one, allowing you to plug your video camera into your computer or connect the monitor to a host of other devices.
What Is VGA?
VGA is the video graphics array. It's a 15-pin analog interface that transfers video signals between a PC and a monitor. Developed by IBM and introduced in 1987, it has since become antiquated as more electronics make the switch from analog signals to digital with HDMI connections.
Best BNC To VGA Adapter
Sewell BNC to VGA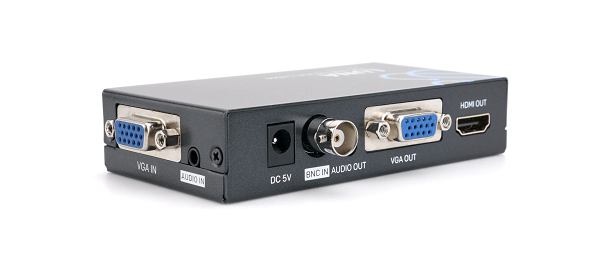 This box by Sewell is designed to support PAL, NTSC3.58, NTSC4.43, SECAM, and standard TV inputs. There is also an additional option that gives you compatibility with HDMI. You should note it is designed to convert BNC to either VGA, DVI, or HDMI, not VGA to HDMI.
This BNC to VGA adapter has two cables hardwired into it, these are the coaxial attachments for the device of your choice. One is the standard coaxial in, the other is BNC in. A port on the machine allows for VGA to be fed in, although to will only come out as VGA.
There are also two exit ports, VGA and HDMI. This unit aims to facilitate the switching off feeds, allowing you to have more than one image coming in and simply switch between them as you need to. You will need to purchase the relevant cables separately.
---
eSynic BNC to VGA Adapter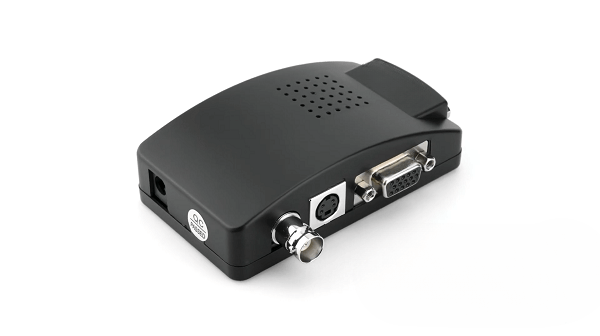 eSynic has this small black box that is designed to accept BNC, S-Video, or VGA, and convert it to VGA. It can be used with security cameras, your video camera, or to play computer games on your television monitor. 
The controls include an onscreen display and resolution adjustment. They are all adjusted from the front panel of the box which can be plugged in and used instantly.
It has three input ports on the back, the BNC, VGA, and the S-Video. The output port is on the side, taking VGA to your desired screen. One button allows you to switch between the desired inputs, enabling you to keep multiple devices connected.
The box is powered by 100-240v, 50-60Hz, and uses a 5volt, 1 amp supply. The power can be supplied via a USB port on your computer or other electronic items. You'll also be impressed with the 18-month warranty and lifetime customer support. The fact that it comes with a VGA and S-Video cable is definitely a bonus.
---
HDsunwstd BNC to VGA Converter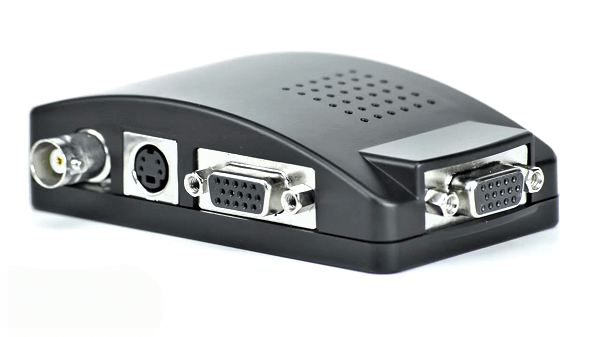 This offering from HDsunwstd is perhaps the simplest option but still an effective way of converting BNC and S-Video signals to VGA.
The black box has a 4-pinS-video input, a BNC input, and a VGA in. On the side of the box is the VGA output, allowing you to connect the images to your television or computer screen. 
You'll find it supports images between 800*600 pixels to 1900*1200, running at between 60-75Hz. The standard power adapter gives you 100-240volts and an output of 5V, 1 amp. 
Again, this is a plug and play option, facilitating your ability to start using it. On the front are several options, including one button to switch between modes, one to reset, and even one to switch the image. 
---
LiNKFOR BNC to VGA Converter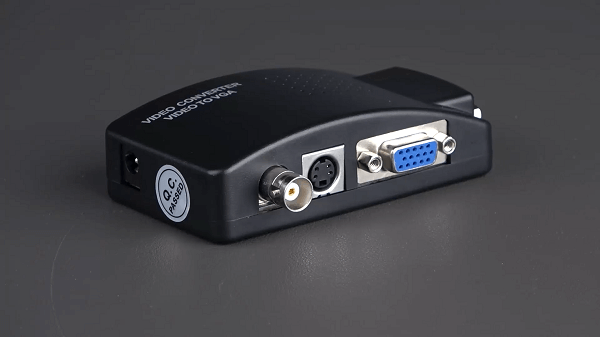 The LiNKFor black box could easily be confused with the HDsunwstd. The box has the same appearance, three input options on the rear, and one VGA output on the side. The three input options are BNC, S-Video, and VGA.
Again, there are several buttons on the front that allow you to reset the box, switch effortlessly between input sources, and even tweak the image. These are easy to access and useful, you don't need to unplug things or pull boxes around to get the desired results.
The VGA output supports resolutions of 800*600 at 60Hz and 75HZ, right up to 1280*1024 at 60 or 75Hz.  Settings are saved automatically and you can be using the box within seconds of plugging it in.
---
Wiistar BNC to VGA Converter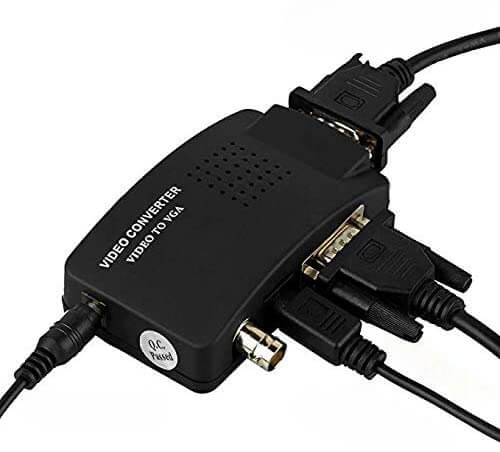 Wiistar is a similar option to most of the others on this list and is competitively priced, making it an attractive option. It has the standard three input options on the rear, VGA, S-Video, and BNC, with a single VGA output on the side. 
The output resolutions are between 800*600 and 1920*1200, offering a good range of options that should cover all your needs. It is another plug and play option with a variety of buttons on the front. These allow you to reset the device, switch between input devices, amplify the picture, adjust the lightness and saturation, and even look at the resolution.
---
Best VGA to BNC Converter
In case you need a converter going the other way, check these out.
StarTech.com VGA to BNC Cable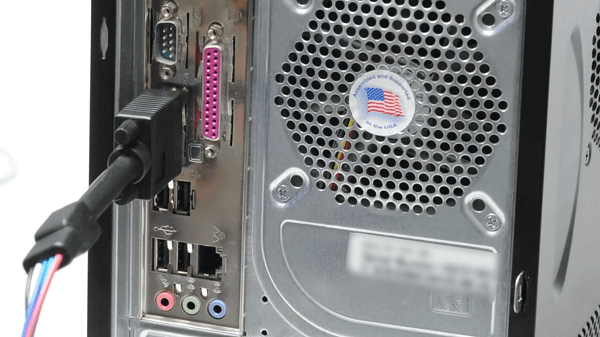 A VGA to BNC converter cable like the Startech 1 foot VGA to BNC converter can be used with a VGA out signal like a wall-mounted TV to connect it to the wires that already exist in your home. It breaks out into 5 BNC female connectors that can be used with five male BNC cables or to connect a BNC video projector to a VGA amplifier or PC.
---
Mintata2019 VGA to BNC Converter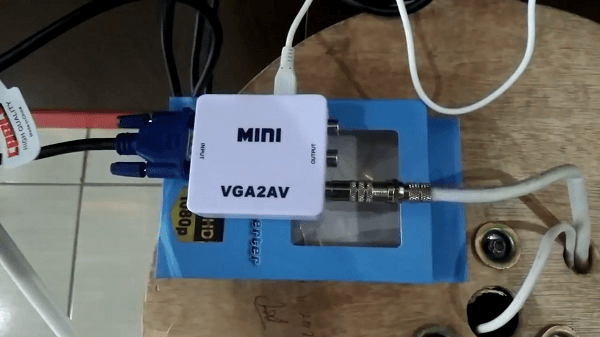 If you need a converter with a smaller footprint, you can opt for a mini VGA to BNC converter. These small devices are ideal for home monitors, TVs, and computers. Since they don't take up much space, you won't have to worry about a clunky converter behind your TV or computer desk.
---
Uses of BNC to VGA Converter
The primary use for a BNC to VGA converter is to convert analog information from the BNC-connected coaxial cable to a computer or monitor. It's a popular conversion for security systems, where analog CCTV limits what can be displayed on a computer. 
You can also use a BNC to VGA converter with DVRs, HD security cameras, and specific video processors. You'll need to convert it if you want to take an analog video signal and change it to HDMI. BNC to VGA converters make that conversion easy.
How To Use BNC to VGA Converter
If you have older equipment with a BNC connector, converting it to VGA is an excellent way to bring it up to date. Most converters today come as "plug and play" models. Simply plug the BNC connector into your BNC device and the VGA connector into your newer device.
However, before using a BNC to VGA converter, there are two essential things you need to remember. First, VGA doesn't support audio. Second, BNC supports lower-quality video than VGA, so you might see differences in your video when you convert.
Lowest and Highest Specifications the BNC to VGA Supports
As with any electronic components, you'll have to deal with minimum and maximum specifications for your converters. BNC to VGA is no exception. Most BNC to VGA converters will support up to 1280 x 1024 resolution. The lowest resolution you'll get is 720 x 480 pixels.
Frequently Asked Questions
Do you still have questions about BNC to VGA converters? Here are some answers to some popular inquiries about these two connections.
Can BNC carry audio?
BNC can carry audio, but the quality will depend on the source and connections. However, since BNC is a connection, not a signal, the audio quality will depend on your input type. When using a VGA converter, any audio you get with your BNC connection will be lost.
Is BNC digital or analog?
BNC connectors are primarily used for analog applications. Although analog is increasingly used less and less, many CC or closed-circuit security cameras still use BNC connectors. VGA allows users to take that analog connection and make it digital.
How many types of BNC connectors are there?
There are three types of BNC connectors available. The 75-ohm connector works for frequencies up to 2 GHz. In comparison, the 50 ohm works up to 4 GHz. Video typically uses 75-ohm connectors. 50-ohm connectors are more appropriate for data and radio. Rarely you'll come across 93-ohm connectors.
How many wires are in a BNC cable?
BNC connectors have a total of three wires. You'll find two 18-gauge wires that connect it to a single coaxial cable.
Is BNC the same as coaxial?
BNC connectors are often used with coaxial cables, but they're two different components. You're most likely to find BNC connectors with commercial audio and video transmission equipment and radio frequency (RF) equipment.
Is VGA the same as composite?
VGA and composite perform similar functions but have a few differences. The most significant difference is that composite cables transmit audio and video, while VGA only transmits video. In addition, VGA can transmit higher definition video.
Is VGA better than composite?
Although VGA doesn't transmit audio, it's more versatile than composite. Composite connectors can only transmit up to 720 x 480 pixels, while VGA can transmit HD frequencies up to 1080p. In addition, a VGA cable can carry a signal double the distance of composite before the signal degrades.
Final Thoughts About BNC to VGA Converters
Purchasing the best BNC to VGA converter is essential if you want to enjoy your images in the best possible quality.
The good news is that it's easy to choose one of the above options and plug it into your existing system. Within minutes you can be up and running, wondering why you didn't do this before.
The real beauty of these converters isn't just that you can get your images displayed on the right screen. It's also the fact that you can have multiple pieces of equipment plugged in and effortlessly switch between them!
There are all kinds of converters for older tech (CGA to VGA converters), we make sure you have an easier time choosing.