Your computer simply doesn't work without a keyboard. Sure, you can get a lot done with the mouse and even the online keyboard. But, to write properly or control your game, you need a keyboard that is easy to use and doesn't take up screen space.
Unfortunately, having a keyboard brings its own problems. The biggest of which is positioning. You may not want it right in front of your computer, many people are comfortable with the keyboard on their lap or, you may even be sitting a distance from an extra-large screen.
Whatever the reason, the standard keyboard cable simply isn't long enough. You need a keyboard extension cable, there are a few great ones to choose from. You'll find them below.
It is worth noting that wireless is an option. However, if you want to guarantee the quality of the signal, wired remains the preferred option.
Best Keyword Extension Cables
Amazon Basics Keyboard Extension Cable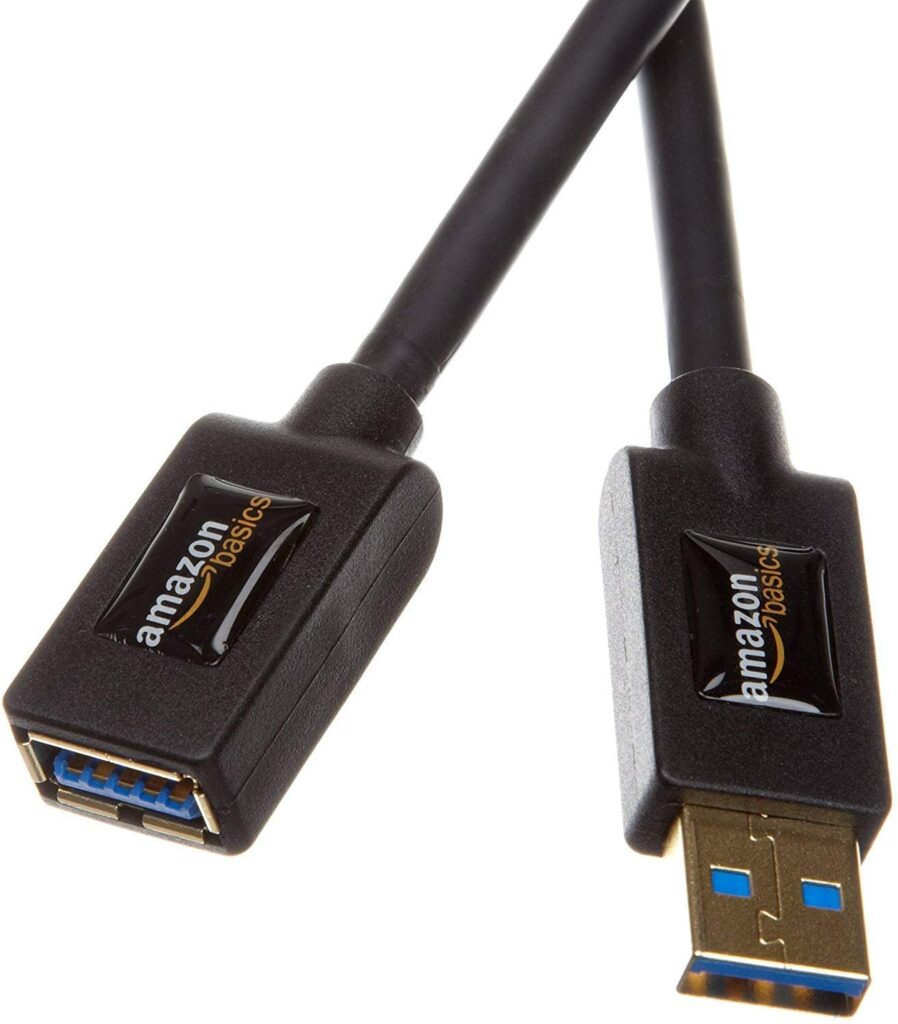 A great basic keyboard extension cable can be had for a good price from Amazon Basics. The cable has a standard male adapter at one end and a female at the other end. There are two options available, a 1 meter extension and a 3 meter extension.
Both cables use gold-plated connectors that are also corrosion-resistant. They have built-in protective shielding to reduce noise on the line and any interference, ensuring the quality of your signal is maintained. It's worth noting that the 3.0 USB cable uses less power and has a better output than USB 2.0 or standard USB.
This cable is a plug-and-play option at an attractive price.
---
Ainope USB 3.0 Extension Cable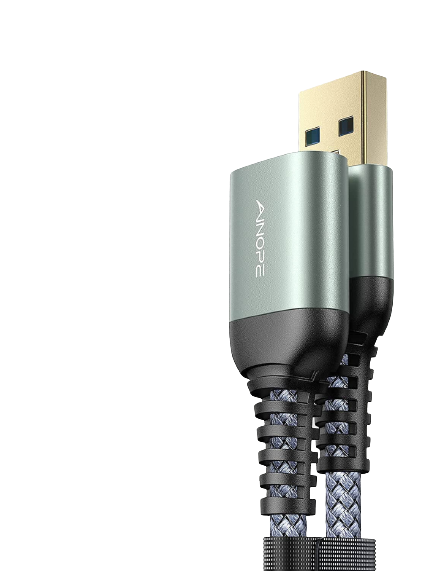 The Ainope USB 3.0 extension cable is listed as an Amazon choice for good reason. It's attractively priced and of high quality. In fact, there are two cables in the pack, they are both the same length, two meters long. In theory, you could plug them into each other and your standard keyboard cable to get a 5-meter long cable which would be the maximum inactive cable.
These cables are braided to ensure they are flexible yet strong and durable. In fact, they are tested by being bent at least 20,000 times! They are rated as USB 3.0, ensuring they will give you the best possible performance. Of course, they are backward compatible with USB 2.0 and 1.0.
The connectors are molded to the braided wire to reduce strain. They are made of aluminum alloy to give great connectivity and strength. Of course, the cables have multiple layers of shielding, ensuring the signal quality remains high.
---
ITD Itanda 10ft USB Extension Cable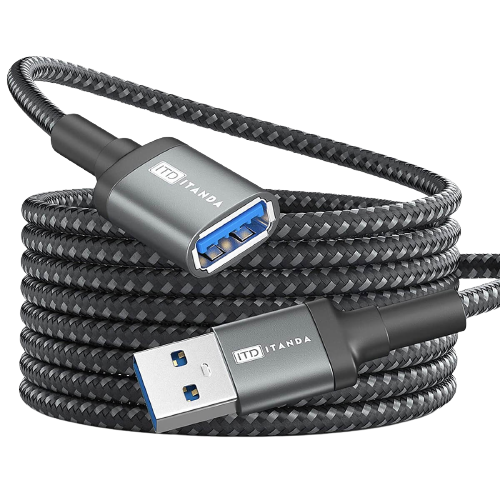 Another attractive option is available from the ITD Itanda store. This is also listed as an Amazon's Choice. The cable is available in a variety of lengths, including 1 meter, 2 meters, 3 meters, and even 5 meters. You simply choose the one you like and order it!
The cables are braided in a gray and white flecking and are bend tested at least 10,000 times. That testifies to their durability and strength, ensuring you have the best possible solution to your keyboard extension cable and positioning issue.
This offering is cable of high-speed transfer, up to 5Gbps with USB 3.0. Naturally, it has a female adapter and a male one. The connections are aluminum alloy for strength and signal quality. They also benefit from reinforced joints to reduce stress and the risk of damage when plugging and unplugging the cables.
It's an attractive-looking and cost-effective solution to your keyboard cable being too short.
---
Nimaso USB 3.0 Extension Cable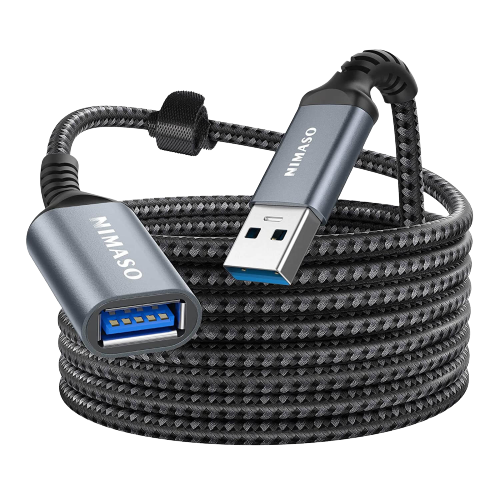 The Nimaso USB 3.0 extension cable is fractionally more expensive than the previous options but still resembles excellent value for money. It is 3 meters long with a standard female adapter and a male connection at the other end. As with all these cables, simply plug it in and start using it.
The extension cable has aluminum shells on the connections and aluminum connectors. In addition, the cable is braided and bend tested to survive at least 20,000 bends. The connection point from cable to adapter is a special design, it has also been bend tested and is designed to reduce stress and strain on the joint.
The braided finish isn't just practical, it also looks good and allows speeds of up to 5Gbps, if used with USB 3.0. Of course, the extension cable is compatible with USB 2.0 and 1.0 but the data transfer will be slower.
It is worth noting that this offering comes with an 18-month warranty.
---
UGreen USB Keyboard Extension Cable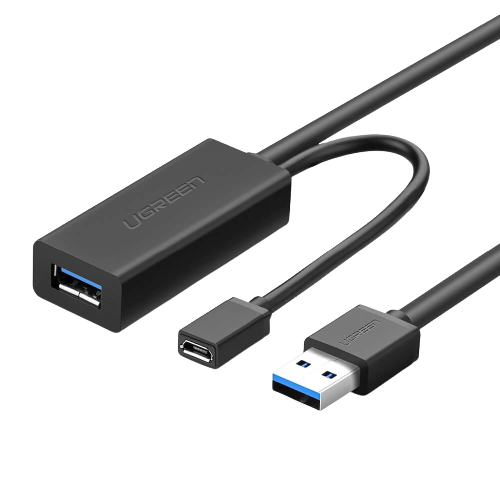 If you need a longer extension cable then the UGreen USB extension cable is a perfect choice. It is available in two lengths, five meters, and ten meters. Both options have signal amplifiers built in to ensure the quality of the signal remains high.
This does mean the female adapter is slightly larger and has a secondary cable coming off of it. The secondary cable is a micro-USB port, plug a standard micro-USB cable into it and the other end of the cable into a power supply. This gives the cable the power you need for signal boosting.
The connections have gold-plated copper contacts to maximize signal quality and the cable is triple shielded to protect against interference and signal distortion. They are molded to prevent damage when being connected and disconnected.
The cable itself has a standard finish and offers 5Gbps with USB 3.0 connectivity. Although it offers an active connection it is still a plug and play option, allowing you to relocate your keyboard instantly.
---
LKDCOK USB Active Extension Cable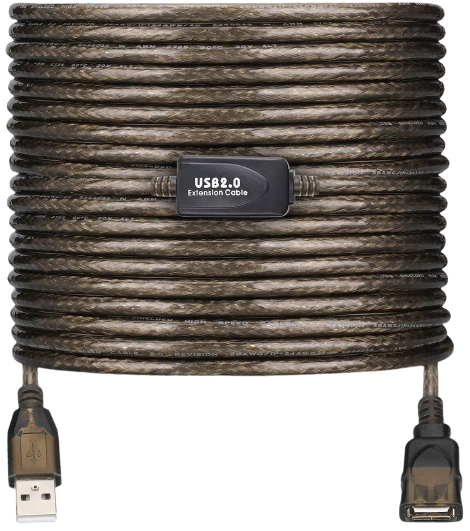 The LDKCOK USB keyboard extension cable is an impressive 15 meters long and comes with a standard male connector and female adapter. This cable does have a signal booster incorporated into it but it is only compatible with USB2.0 and lower. That shouldn't be an issue when dealing with a keyboard extension.
The cable is 2824AWG copper core and is tin-plated, it has the standard triple shielding to prevent interference and distortion. This cable doesn't have an independent power supply, it's perfect for the keyboard but can't be used to transfer significant amounts of data.
The connectors are also gold-plated and the cable is metal wire braid, making it flexible and hard to damage. In fact, it is tested to 10,000 bends to ensure its strength and longevity.
Of course, you can simply plug it in and start using it at any time, no drivers or updates are required.
---
Things To Consider Before Buying Your Keyboard Extension Cable
There are several things that you need to think about before you spend your money:
Manufacturer
Before you select a keyboard extension cable it is essential to consider who is manufacturing and supplying the cable. The best-case scenario is a manufacturer/supplier that you already know and trust. This will give you confidence when you buy it.
However, if this isn't the case you should talk to family, friends, and colleagues to see if they have heard of a manufacturer or can recommend one.
If this isn't any help then you'll need to turn to social media and online forums to get an idea of how good a specific cable is. There are plenty of people happy to share their opinions.
Length
The average keyboard cable is one meter long. You can extend this to almost any length. However, it is important to note that five meters is considered the maximum for a standard USB cable, that's including the length of the original cable.
If you need longer than five meters it is a good idea to use an active connection. This includes an electrical supply that boosts the signals and ensures it remains high-quality, right up to your computer.
In short, work out where you want the keyboard to ensure you know the length of cable you need.
Type Of Cable
Keyboards are generally hardwired and have a standard USB connection at the other end. That means you need a male-to-female USB cable. These are easy to get hold of but you should remember that they are not all created equal.
It is important to verify what type of wire is used in your cable, OFC copper is generally considered to give the highest quality signal.
Final Thoughts On Keyboard Extension Cables
Now you know the key things to look out for in a keyboard extension cable, and you have seen some of the best options currently available, you will be able to choose your preferred option from the above list and order it today.
If you are building a PC you might need a headphones cable, Razer mouse cables and an ethernet cable.
You don't need to suffer uncomfortable positions when you type. The right extension cable will make your life easier, and the right cable is on the above list. Order one today!